Breakfast is the most important meal of the day, and it's essential to get off to a healthy and nutritious start. A healthy breakfast can help boost your energy, increase your metabolism and keep your blood sugar level in balance. In this blog we share 10 healthy breakfast recipes that will make your day right!
10 healthy breakfast recipes to start your day.
1.Avocado toast with eggs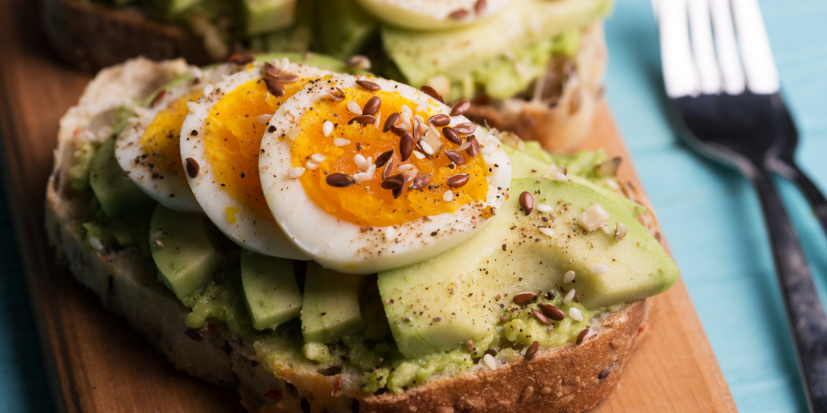 Avocado toast is a trendy and delicious breakfast that is full of healthy fats and fiber. Combine this with a poached or fried egg and you have a full breakfast that will keep you full for a long time. Sprinkle with some salt and pepper for extra flavor.
To make toast with avocado and eggs you will need the following ingredients:
2 slices of bread
1 ripe avocado
2 eggs
salt and pepper
lemon juice
Olive oil or butter for frying

Preparation:
Halve the avocado and remove the stone. Mash the flesh with a fork in a bowl and season with salt, pepper and lemon juice.
Toast the bread and arrange on a plate. Spread the avocado cream generously on the toast slices.
Heat a pan and add some olive oil or butter. Crack the eggs and put them in the pan. Fry the eggs over medium-high heat until the whites are set and the yolks are still runny.
Place the fried eggs on the avocado cream and season with salt and pepper.
Serve the toasts with avocado and eggs and enjoy!
2.Greek yogurt with fruit and granola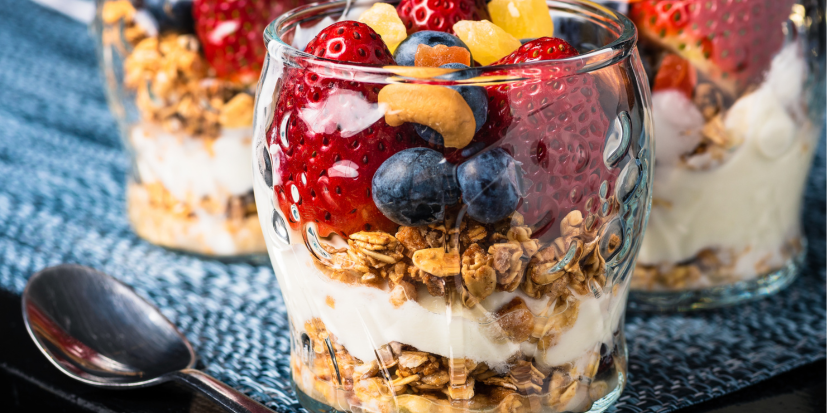 Greek yogurt is an excellent source of protein and calcium and can be combined with any fruit you like. Add some homemade granola for extra crunch and fiber. You can easily make granola yourself with oatmeal, nuts, seeds and honey.
To prepare Greek yogurt with fruit and granola you will need:
Greek yogurt
Fresh fruit of your choice (e.g. berries, bananas, apples)
Muesli (e.g. oatmeal, nuts, seeds, dried fruits)

Step-by-step instructions:
Wash the fruit and cut into small pieces.
Place a few tablespoons of granola in a bowl.
Top the granola with a generous amount of Greek yogurt.
Place the sliced fruit on top of the yogurt.
Repeat the layers of granola, yogurt, and fruit until you have the amount you want.
Enjoy the Greek yoghurt with fruit and muesli immediately or chill until ready to eat.
Bon appetit!
3.Green smoothie
A green smoothie is a great way to start your day with lots of vitamins and minerals. Combine a handful of spinach, a banana, some pineapple and some almond milk for a delicious and healthy smoothie. You can also add some extra ingredients such as chia seeds or linseed for extra nutrients.
To prepare a green smoothie, you need the following ingredients:
A handful of spinach
Half a cucumber
A handful of kale
Half a banana
A cup of water
Preparation: 
Step 1: Wash the vegetables thoroughly.
Step 2: Cut the cucumber into small pieces and peel the banana.
Step 3: Place all the ingredients in a blender and blend until smooth.
Step 4: Taste the smoothie and add more ingredients to enhance the flavor if needed.
Step 5: Pour the smoothie into a glass and serve immediately.
Enjoy your fresh, healthy Green Smoothie!
4.Oatmeal with berries and nuts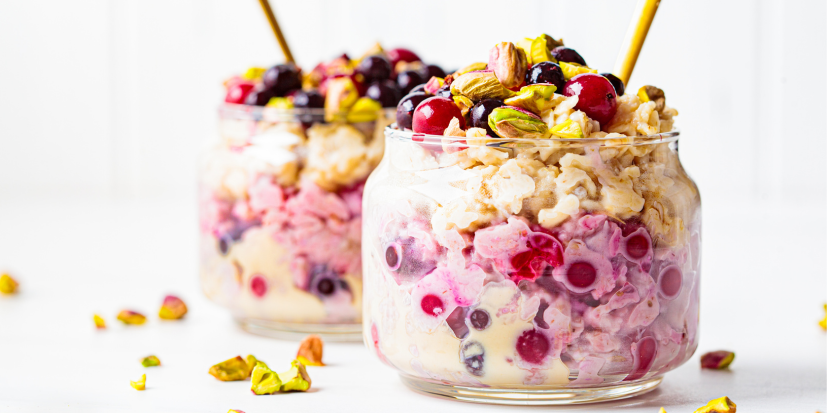 Oatmeal is a classic and nutritious breakfast. Add some berries, nuts and a little honey for extra flavour. Oatmeal is full of fiber and will help you feel full longer.
Ingredients:
100 grams of rolled oats
200 ml milk (or plant milk)
1 tbsp honey or maple syrup
1/2 tsp cinnamon
50 g mixed berries (e.g. raspberries, blueberries, strawberries)
20 g chopped nuts (e.g. almonds, hazelnuts, walnuts)

How to prepare it:
Place oatmeal, milk, honey (or maple syrup), and cinnamon in a saucepan and bring to the boil, stirring constantly.
Reduce the heat and simmer for another 5-7 minutes, until the oats are soft and the milk has been absorbed.
Scatter the berries and nuts over the oatmeal and serve.
Bon appetit!
5.High-protein pancakes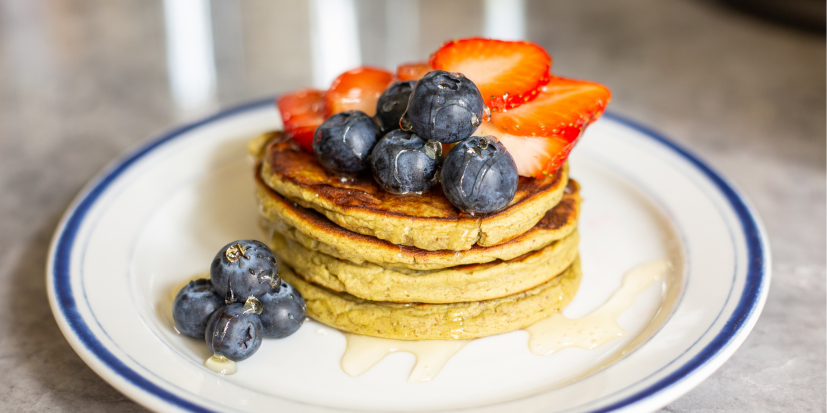 High protein pancakes are a great way to start your day with a lot of protein and few carbs. Combine 2 eggs, a banana and some oatmeal in a blender and blend until smooth. Fry the pancakes in a little coconut oil and serve with some berries and honey.
To make high protein pancakes you will need the following ingredients:
100 grams of rolled oats
2 eggs
1 banana
1/2 cup (120ml) milk (or almond milk for a dairy-free option)
1/2 teaspoon cinnamon
1/2 teaspoon baking powder
1/4 teaspoon salt
1 teaspoon vanilla extract
2 tablespoons protein powder (vanilla or chocolate flavor)

Preparation:
Place the oatmeal in a blender or food processor and blend until finely ground.
Add the eggs, banana, milk, cinnamon, baking powder, salt, vanilla extract and protein powder and mix until smooth.
Heat a pan over medium heat and add some oil or butter.
Add about 1/4 cup (60ml) of the pancake batter to the pan and fry the pancakes for 2-3 minutes on each side or until golden brown.
Repeat the process with the rest of the batter until all the pancakes are done.
Serve the pancakes warm with fruit, nuts or syrup of your choice.
Bon appetit!
6.Tofu scramble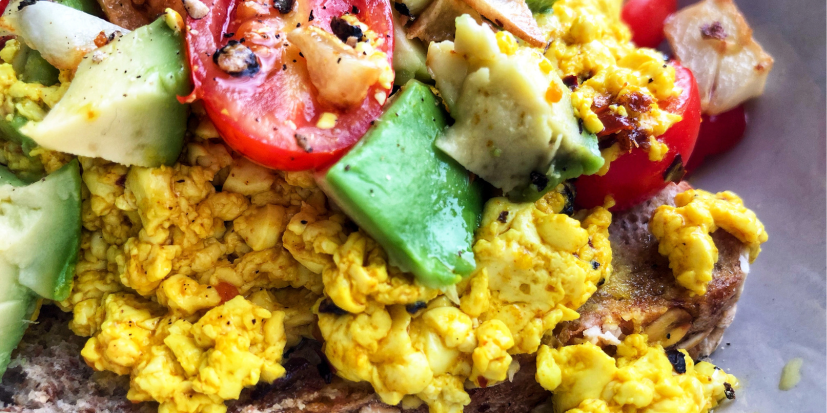 Tofu scramble is a vegan alternative to scrambled eggs and is packed with protein. Bake some tofu with bell pepper, onion and mushrooms and serve with a toasted wholemeal sandwich for a nutritious and filling breakfast.
Here is a recipe for scrambled eggs with tofu:
Ingredients:
300 g firm tofu
4 eggs
1/2 cup milk
2 tbsp olive oil
1 garlic clove, chopped
1/2 onion, chopped
salt and pepper to taste
1 tbsp chopped parsley (optional)
Preparation:
Mash the tofu with a fork and set aside.
Beat the eggs and milk in a bowl until fluffy. Season with salt and pepper.
Heat the olive oil in a pan. Add the chopped garlic clove and onion and saute until tender, about 2 minutes.
Add the mashed tofu to the pan and fry for another 2-3 minutes until golden brown.
Add the egg mixture to the pan and stir gently until the egg is cooked through and incorporated into the tofu and onions.
Season with salt and pepper and garnish with chopped parsley, if you like.
Serve warm and enjoy!
7.Buckwheat Pancakes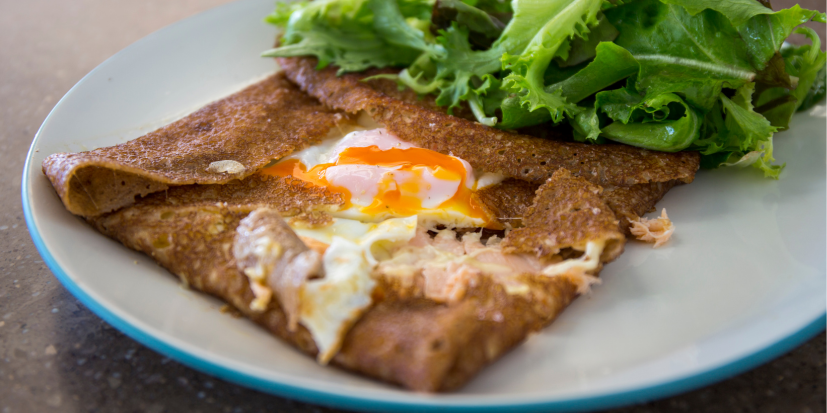 Buckwheat pancakes are a gluten-free alternative to traditional pancakes and are rich in fiber and minerals. Combine buckwheat flour, eggs, milk and a little honey in a blender and fry the pancakes in a little coconut oil. Serve with some fresh fruit and maple syrup.
Here is a recipe for buckwheat pancakes:
Ingredients:
150 grams of buckwheat flour
50 grams of wheat flour
2 eggs
250ml milk
1 teaspoon Baking powder
1 pinch of salt
2 tbsp sugar
2 tbsp oil for frying

Directions:
In a bowl, mix together the buckwheat flour, wheat flour, baking powder, salt and sugar.
In another bowl, crack and whisk the eggs.
Add the milk and mix everything well.
Add the liquid ingredients to the dry ingredients and mix to form a smooth batter.
Heat the oil in a pan and pour the batter into the pan in batches.
Fry the pancakes on both sides until golden brown.
Put the finished pancakes on a plate and serve warm.
Bon appetit!
8.Chia pudding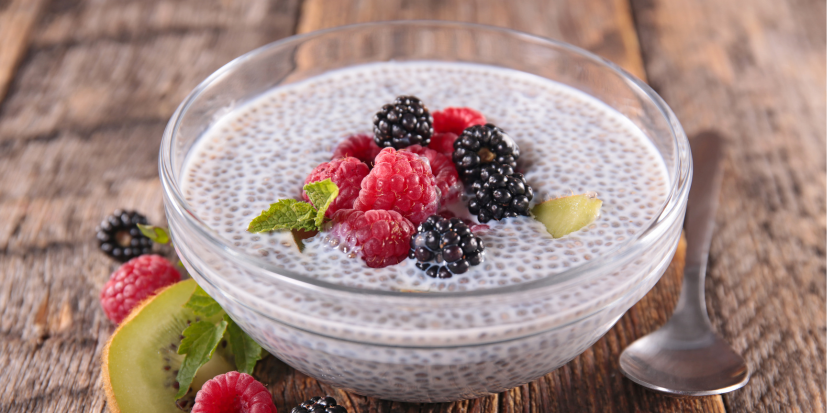 Chia pudding is a delicious and nutritious breakfast that you can prepare the night before. Mix chia seeds with almond milk and some honey and refrigerate overnight. Add some fresh fruit and nuts for extra flavor and texture.
Chia pudding is an easy and healthy breakfast that can be prepared quickly. Here's a simple recipe:
Ingredients:
4 tbsp chia seeds
1 cup milk (plant or animal)
1 teaspoon honey or maple syrup
1/2 teaspoon vanilla extract
Directions:
Place the chia seeds in a bowl.
Add milk, honey and vanilla extract and mix well.
Place the mixture in the fridge and let it steep for at least 2 hours or overnight.
Stir occasionally to ensure the chia seeds mix well with the milk.
When the chia seeds are swollen and the mixture has a pudding-like consistency, transfer the chia pudding to bowls.
Garnish with fruit, nuts or muesli as desired and serve.
Bon appetit!
9.Omelet with vegetables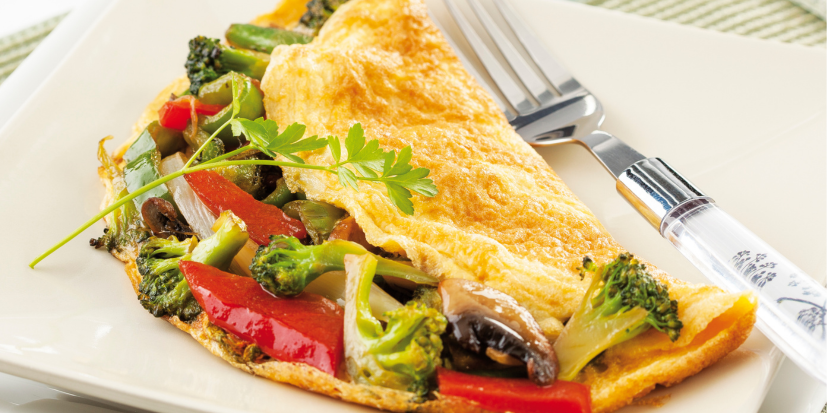 A veggie omelet is a great way to start your day with plenty of protein and veggies. Bake some bell pepper, onion and mushrooms in a pan and add 2 eggs. Fry the omelette until firm and serve with toasted wholemeal bread.
Omelette with Vegetables Recipe:
Ingredients:
3 eggs
2 Table spoons of milk
salt and pepper
1 small zucchini, diced
1 small bell pepper, diced
1 small onion, diced
1 tbsp olive oil
2 tbsp grated cheese (optional)
Directions:
Crack the eggs into a bowl, add the milk and season with salt and pepper. Whisk well with a fork and set aside.
In a pan, heat the olive oil over medium heat. Add zucchini, peppers, and onion and sauté, stirring occasionally, until vegetables are tender, about 5 minutes.
Pour the egg mixture over the vegetables in the pan and turn the heat to low. Spread the mixture evenly, cover and leave to set slowly for about 5 minutes.
When the top of the omelette is set, fold the omelet in half and sprinkle the grated cheese on top. Cover again and cook for a further 2 minutes until the cheese has melted.
Using a spatula, carefully slide the omelette onto a plate and serve immediately.
Bon appetit!
10.Acai bowl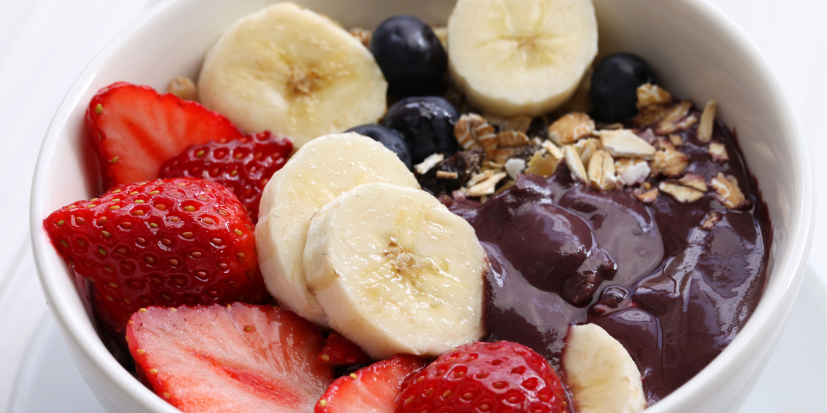 An acai bowl is a trendy breakfast that is full of antioxidants and healthy fats. Mix frozen acai berries with a banana and some almond milk in a blender and serve with some fresh fruit, granola and honey.
Here is a recipe for a fresh Acai bowl:
Ingredients:
2 fresh bananas
100 g fresh Acai berries
1/2 cup fresh berries (such as raspberries or blueberries)
1/2 cup almond milk
1 tablespoon honey
Toppings of your choice (such as granola, coconut flakes, fresh berries, banana slices)
Instructions:
Peel and slice the fresh bananas.

In a blender, combine the fresh Acai berries, fresh berries, almond milk, honey, and sliced bananas.

Blend the ingredients until smooth and creamy.

Pour the mixture into a bowl.

Add your desired toppings to the bowl.

Serve and enjoy your fresh Acai bowl!
Note: You can also use other fresh fruits or milk alternatives like coconut milk to customize your Acai bowl.
Conclusion
A healthy breakfast is the basis for a healthy lifestyle. It is important to choose nutritious and filling ingredients to start your day right. With these 10 healthy breakfast recipes you have enough inspiration to vary and make a healthy start every day!
Be sure to try out these healthy breakfast recipes and share your experience in the comments below. Don't forget to share this blog with your friends and family so they can enjoy a healthy breakfast too.